Aishwarya Rai Bachchan's Dramatic Act Gets MOCKED; Famous Designer Says 'Halloween Is Next Year'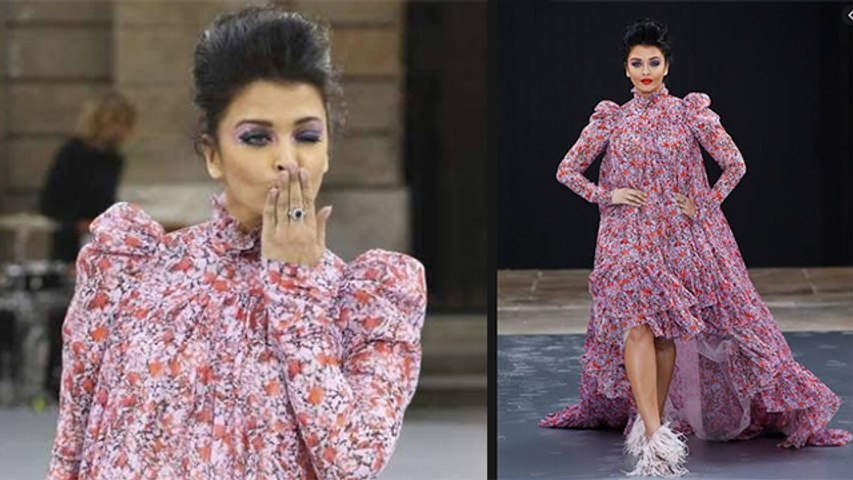 Aishwarya Rai Bachchan sizzles on ramp in Paris Fashion Week 2019; Check out | FilmiBeat
After a long time, actress Aishwarya Rai Bachchan made a public appearance when she made a debut at the Paris Fashion Week. The stunning actress walked down the runway for the L'Oreal Paris Le Défilé show alongside Eva Longoria, Camila Cabello, Helen Mirren, Geri Horner, Amber Heard, Doutzen Kroes and Liya Kebede on Saturday (September 29, 2019). The actress donned a colourful dress by Giambattista Valli and she paired her look with dramatic eye make-up and if you think the actress managed to impress her fans, uh oh! You're so gonna be disappointed!
Though Aishwarya owned the ramp with her sheer confidence, it was her attire that received flak. So much so that a popular designer, Wendell Rodricks also shared his views on his Instagram page and said, "Halloween is next year."
'Halloween Is Next Month'
While sharing Aishwarya's picture from the Paris Fashion Week, Wendell Rodricks wrote, "@loreal you have one of the prettiest girls in the world and this is how you do her makeup and dress her? Sack the stylist for this sack dress with a note that Halloween is next month."
Netizens Nod Along With Wendell Rodricks
@vrindapatell: "Just because that awful Dress is on her, I can even look at it."
@shikhabakshi: "Helen, Eva n Camilla were looking okay there but L'Oréal saved all the atrocities for her n she agreed to it also🙄😂 really strange n confusing! She must have had access to mirrror 😂."
Fans Call Aishwarya's Stint At PFW A 'Disaster'
@anubhasawhney: "Totally agree with you!!! She looks like a disaster in this outfit."
@debtexeira: "Hairstyle too is awful. Makes her look older and awkward. Total confused look. Disaster."
@aditiagarwal_official: "The shoes just don't go with her outfit. Disappointment."
Aishwarya Gets Trolled Left & Right
@Josephliji: "That's how a 2year old steals her mom's make up and applies on her face and eyes."
@jillyanndesouzh: "Horrifying how did she think of agreeing to wear it in the first place."
There's no denying that Aishwarya Rai Bachchan is one of the most beautiful faces in the world. Sadly, when it comes to fashion, she still needs to work on herself.
(Social media posts are unedited.)