Priyanka Chopra Is Here To Save Bollywood: Netizens HAIL After Watching 'The Sky Is Pink' Trailer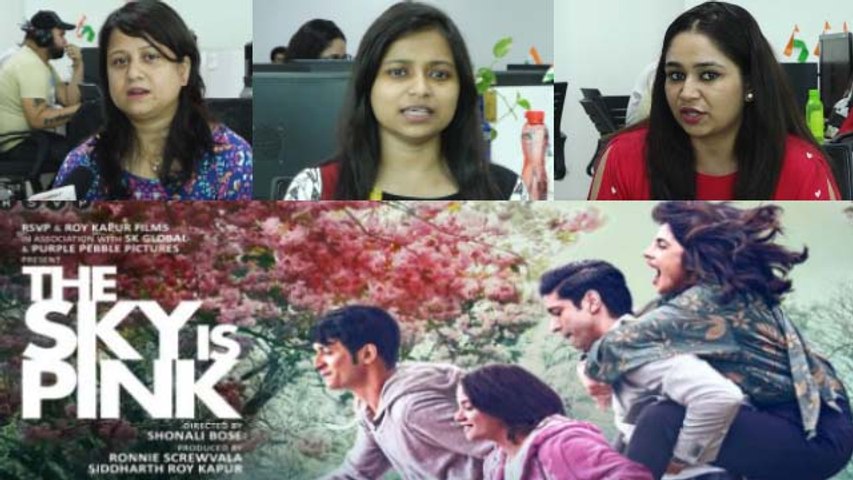 The Sky Is Pink Trailer Reaction: Priyanka Chopra | Zaira Wasim | Farhan Akhtar | Rohit | FilmiBeat
The moment, the trailer of Priyanka Chopra-Farhan Akhtar starrer 'The Sky Is Pink' hit the internet, netizens have been hailing PeeCee for her terrific performance. Fans are totally in awe of the crisp trailer and the sizzling chemistry between Farhan and Priyanka. The trailer showcases a gamut of emotions and we just can't wait to watch the film. Check out the trailer reviews of The Sky Is Pink as netizens can't stop screaming 'Priyanka is here to save Bollywood'.
Priyanka chopra saving the whole future and reputation of bollywood with #TheskyIsPink #TheSkyIsPinkTrailer pic.twitter.com/ENuuG2WX0b

— Last Cigarette⚡ (@its_zaalima) September 10, 2019
Dishaa Burdya @Dishaa_24
"#TheSkyIsPink is the only bollywood movie that i'm looking forward to watch this year! @priyankachopra nailed it in #TheSkyIsPinkTrailer and i cannot wait to watch more of her. 😍 She is THE BEST. It's always a blessing to watch her and i'm glad that i'm a #PCManiac ❤️."
Urvashi @UrvashiPrakash
"Love the trailer #TheSkyIsPink @priyankachopra @FarOutAkhtar Can't wait to watch this one!!"
Shaikh Salman @shaikh_2222
"Omg! I loved it. Cannot wait to watch it. Still cannot believe you are back in Bollywood. #TheSkyIsPinkTrailer #TheSkyIsPink ❤"
#20xZoom Shri Burinazarwale @burinazarwale
"Guys have you yet watched this amazing and extraordinary trailer , I am definitely loving this one #TheSkyisPink @RSVPMovies."
Saket Gupta @Nikkugupta_77
"Just After watching Mary kom nd Quantico i Became Priyanka Mam's Fan!! But after #TheSkyIsPink trailer a HUGE! HUGE! HUGE! Respect is within me for @priyankachopra Mam what a Comebackkk! Thank you!! Also the other are Mind blowing!!"
aik @ar_jaik
"I was waiting for this movie and for your acting @priyankachopra #TheSkyIsPink trailer shows all of your acting levels."
Sushil Kumar @sharma322118
"Such a beautiful and cute moments of love .. beautiful trailer."
The film is slated to hit theatres on October 11, 2019.
(Social media posts are unedited)