Saaho Gets THRASHED By Critics; Fans Troll Prabhas, Act Frustrated & Put Him In A Tight Spot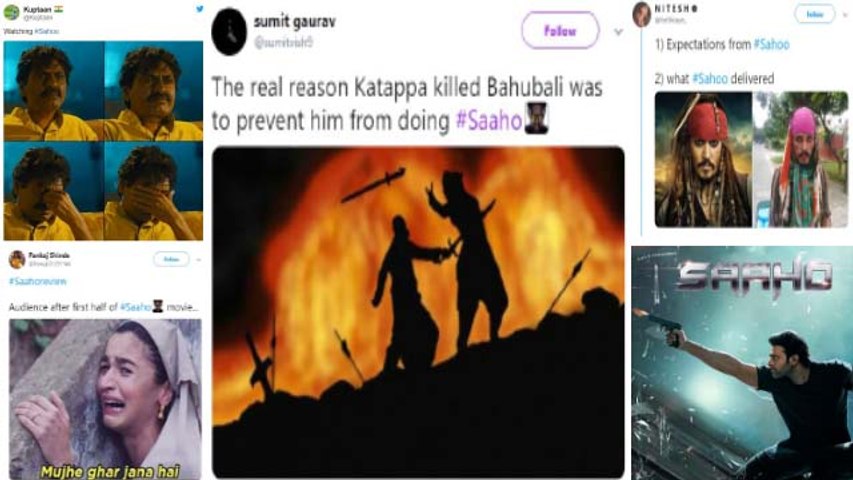 Prabhas & Shraddha Kapoor Saaho : These funny & hilarious memes will make you LAUGH | FilmiBeat
Saaho went haywire as soon as it hit theatres. All the anticipation turned into chaos as the film crashed on the silver screen and failed to woo critics as well as moviegoers. Fans have been trolling Prabhas as he failed to live up to the humongous buzz and also sharing 'frustrating' memes after watching Saaho, while dissing the movie. Check out the reactions below..
Saaho (Hindi Version) FULL MOVIE LEAKED Online To Download In HD Print; Prabhas's Fear Becomes Real
Taran Adarsh Disses Saaho
Trade analyst and movie critic Taran Adarsh is anything but impressed with Prabhas starrer Saaho. He tweeted, "#OneWordReview... #Saaho: UNBEARABLE. Rating: ⭐️½ A colossal waste of talent, big money and opportunity... Weak story, confusing screenplay and amateur direction. #SaahoReview."
Rohit Jaiswal Slams Saaho Too
Film critic Rohit Jaiswal tweeted, "My astrologer told me months ago that I can meet an accident by end of August this year, I took his advice too lightly, and now I am going to hospital for my further treatment.. #Saaho is a STYLISH LET DOWN PATHETIC FILM, its a 350cr budget CANCER.."
Sumit Kadel @SumitkadeI
"#Saaho is 2019 BIGGEST DISAPPOINTMENT. Plus- Prabhash Screen presence Minus- bad performances of too many characters ,Confusing Story, Extremely boring laughable screenplay,mediocre action ,terrible direction & so many bad songs. Watch at your own risk. Rating- ⭐️ #SaahoReview."
Prabhas Gets Trolled Left & Right
Trollers took a major dig at Prabhas for his latest outing at the theatres and trolled Saaho left and right.
Twitter Is Inundated With Memes
Hundreds of memes have been going viral on Twitter and most of them mock Saaho and call it a 'disaster' movie of the decade. Check out some of the reactions below..
#Saahoreview

Audience after first half of #Saaho movie... pic.twitter.com/NFdcC90WiF

— Pankaj Shinde (@PankajS31291146) August 30, 2019
Three great cameos in #Saaho . Python, Panther and an Ostrich

— Haricharan Pudipeddi (@pudiharicharan) August 30, 2019
RunRajaRun + 2 action Sequences = #Saaho
Same theme... Robbery is replaced by kidnaps..

— Manu (@its__manu) August 29, 2019
(Social media posts are unedited)