Saaho Movie Review: Live Audience Update On 'Baahubali' Prabhas Starrer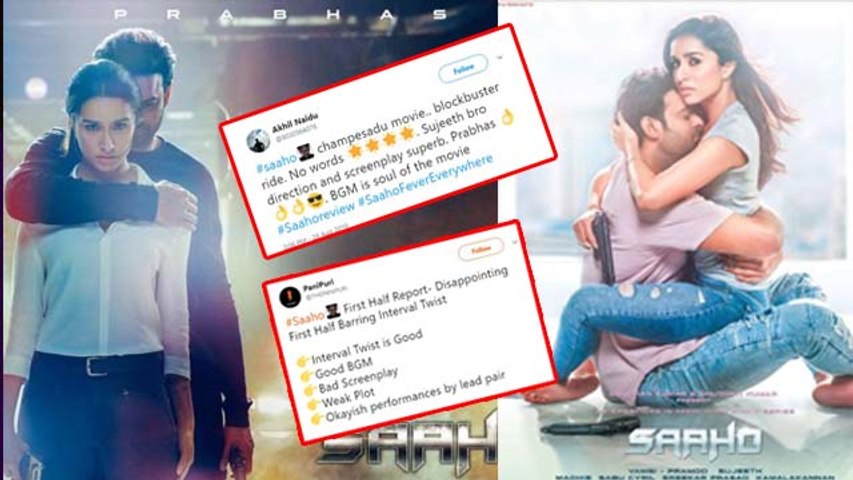 Prabhas Saaho Twitter Reaction: Prabhas & Shraddha Kapoor praise by fans | FilmiBeat
Finally, the much-awaited movie of Prabhas, Saaho, has hit the theatres in UAE and Twitter is inundated with quick reviews from netizens. Saaho, which marks the Telugu debut of Shraddha Kapoor and Prabhas's Hindi debut (technically), has Twitterati gushing all over the action scenes of Prabhas and they're all praises for the film. Check out the Twitter reactions below..
Ram@ramaraju9
"#Saahoreview Guys just came out of Bahrain premiere show of #sahoo. Least we can say is it's a blockbuster. This is going to be the cult movie like batman series in India. Awesome entertainment, you will realise your breath only after end titles. Go for it. @ActorPRABHA."
#Kabir 💥💥WAR @WAR_TheYudhh
"#Dubai 's Audience is going Mad 🔥🔥🔥🔥 They are shouting PRABHAS PRABHAS 🔥🔥🔥🔥Never Seen before action in any Indian movie 🔥🔥🔥 hats off to the Action Choreographer and the producer who spend this much , its totally Worth it 👏."
vithu reddy🌚 @Thalapathy__Fan
"Live from Dubai Premiere .. 1st half : Adhbutamaina Mass Action Scenes 😍💥💥 Making + DOP 🔥 Darling screen presence lo 🤘👌👌 Blockbuster confirmed 💯🔥 Darling fans get ready ra 😍😍 Indian TOM CRUISE ippati nundi Darling Ante 😈💥 #Saaho #WorldSaahoDay."
A Few Found Saaho 'Disappointing'
Chowkidar Shinchan ❁ @BjpKaShinchan: Just saw the #Saaho Very disappointed 😵👎 S A V E M O N E Y
∞ @samuraijack543: "Very disappointed! 😞."
Abhi. @urstrulyAbhi__: "Sorry to say this but. Get Ready for Slow narration......#Saaho."
Shubham C @Shubham26383793
"#SaahoReview #Saaho grips u with interesting screenplay which gets muddled in between but races to the finish line with aplomb..#Prabhas is BONES BREAKER HIGH FLYING ACTION STAR while @ShraddhaKapoor shines too..Ending arc leading to climax will ensure BANG for ur BUCK.. 3.75/5."
Jai @jagguus:
"#Saaho what a movie man. Can't sleep now after watching. Full on entertainment guaranteed. #Prabhas will rule the world from now on. Top notch acting. Fight scene masterpiece #Saahoreview."
A @ashwinn___
"#saaho don't miss it...edge of d seat thriller.... Interval twist🔥🔥🔥 climax fight #Prabhas nailed it.... must watch... #SaahoFeverEverywhere."
(Social media posts are unedited)
Prabhas Is Not Comfortable With On-screen Kissing; Talks About His Next Project With Anushka Shetty