Chetan Bhagat Says Vidhu Vinod Chopra Publicly Bullied Him; Drove Him Close To Suicide
Author Chetan Bhagat reached out to media and film critics on Twitter asking them to be mindful when reviewing the upcoming film Dil Bechara. Dil Bechara, set to premiere on Disney+ Hotstar on Friday, July 24 is Sushant Singh Rajput's last film.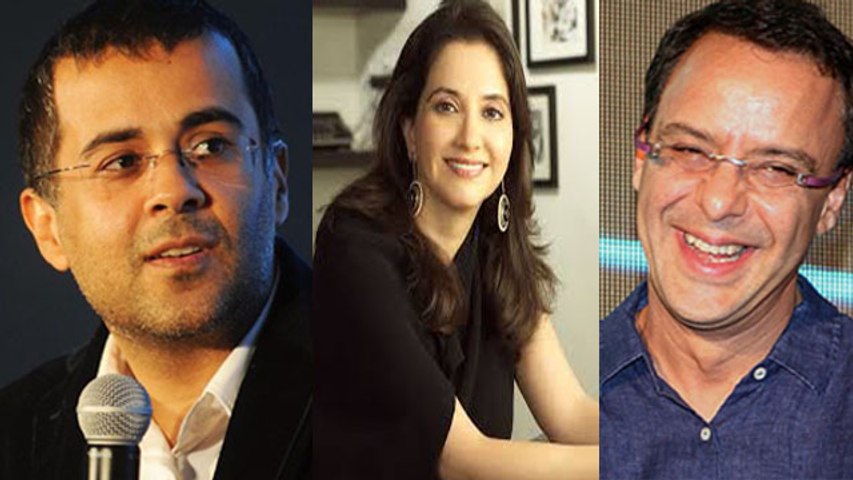 Chetan Bhagat को सुसाइड करने पर Vidhu Vinod Chopra ने किया था मजबूर ?|FilmiBeat
Chetan tweeted on Wednesday and wrote, "Sushant's last film releases this week. I want to tell the snob and elitist critics right now, write sensibly. Don't act oversmart. Don't write rubbish. Be fair and sensible. Don't try your dirty tricks. You have ruined enough lives. Now stop. We'll be watching."
Film Critic Anupama Chopra commented on Chetan's tweet and wrote, "Each time you think the discourse can't get lower, it does." The Indian author quickly reacted to her tweet and asked about her disclosure when he was being bullied by her husband and producer Vidhu Vinod Chopra.
Chetan Bhagat's Reply To Anupama Chopra
In the tweet, Chetan Bhagat is talking about the film 3 Idiots which was produced by Vidhu Vinod Chopra. The hit film was based on Bhagat's book Five Point Someone, however, there was a huge controversy that had ensued back in 2009 about the author not being credited properly.
Chetan Bhagat wrote, "Ma'am, when your husband publicly bullied me, shamelessly collected all the best story awards, tried denying me credit for my story and drove me close to suicide, and you just watched, where was your discourse?"
Rajummar Hirani On Credit Controversy
Rajkumar Hirani, the director of 3 Idiots, later said that Bhagat was given due credit as per their contract. He told news portals, "According to the contract, it clearly says that Chetan will be given credit in the rolling credit, which comes at the end of the film. He is lying when he says that his name comes after the junior artists, his name is after the main artists of the movie. See the movie to believe me."
3 Idiots Was Based On Chetan Bhagat's Five Point Someone
3 Idiots, still regarded as a cult classic, starred Aamir Khan, Sharman Joshi, R Madhavan and Kareena Kapoor Khan in the lead roles.
Chetan Bhagat Reveals Critic Tried To Destroy His Career And Tried To Sink Sushant Singh Rajput
Sanjana Sanghi On Not Having Sushant Singh Rajput Around On The Day Of Dil Bechara's Trailer Release