Bigg Boss 16 Day 1 Live Updates: And So, On The Very First Day, #KhelGayeBiggBoss
As per the promo, today Bigg Boss makes Sajid Khan the quirky and witty translator of singer Abdu Rozik. With tons of wit and humour, Sajid is helping Rozik understand the Bigg Boss house and all the housemates in it.
Recommended Video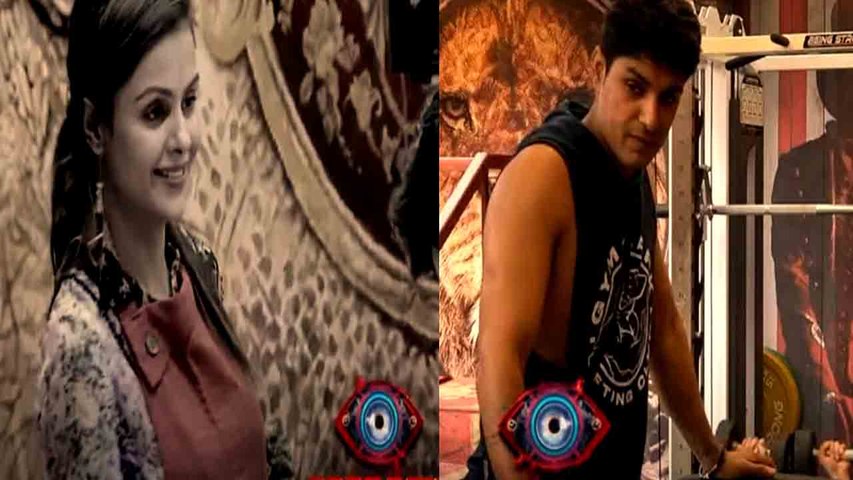 Bigg Boss 16 में Ankit Gupta ने Priyanka Choudhary के लिए बयां की feelings,PriYankit का ये है रिश्ता
The first day of the game begins with the energetic Chennai Express number 'One Two Three Four''in the morning and the contestants can be seen dancing to the tune. However, Bigg Boss puts them in absolute shock by declaring that the wake up song will be the very last song of the season, followed by the order to recite the newly drafted Bigg Boss anthem. While some recite the oath, others are more unwilling to do so.
All this is just a teaser of the exciting day that is to come. So, hold your hearts and stay tuned to the live updates of the first day of Bigg Boss season 16.
Oct 2, 2022

10:46 PM

The first day of Bigg Boss was quite action packed and we can already see a rivalry erupting between Archana and Nimrit. Also Archana is proving to be a bane in every housemate's eye. It will be interesting to see what all new developments will occur in the following days.

Oct 2, 2022

10:43 PM

As Sajid sleeps, the housemates are talking about him in different corners of the house and are discussing how they should communicate with him.

Oct 2, 2022

10:41 PM

Bigg Boss said that in this season, neither them nor the audience has time to figure out their relationship and asks them to bring clarity in it.

Oct 2, 2022

10:40 PM

Bigg Boss called Tina and Sreejita in Confession room and said that the audience is confused if they are friends, foes, or frenemies. Bigg Boss pointed out that Sreejita doesn't like Tina's dominating nature., hearing which Tina got shocked.

Oct 2, 2022

10:36 PM

Gautam and Stan got into a tiff as the former asked Stan to pull his weight and not keep things for tomorrow. Stan said that he would do it but Gautam didn't like his attitude. Stan said that he is not giving attitude and it is his way to talk. The housemates separated the two and are trying to calm them down.

Oct 2, 2022

10:33 PM

Sajid, Gautam, and Ankit see the condition of the sink and have decided that they won't wash anyone's personal utensils like cups and plates. The boys then went on to tell the housemates. Nimrit in anger, said trhat she hasn't been able to sit in peace since morning and said that everyone is an adult and they need to handle their stuff.

Oct 2, 2022

10:29 PM

Bigg Boss called MC Stan and asked him to teach him a rap song which the rapper happily obliged. Bigg Boss noted that Stan is not connecting with the housemates and he needs to work on it. Stan says he will work on it.

Oct 2, 2022

10:27 PM

Sreejita called Archana and told her to clean the Kitchen as the cooks make the food. Archana said that she will clean the kitchen after everyone has made food and Kitchen works are all finished.

Oct 2, 2022

10:25 PM

This time Bigg Boss called and asked Nimrit to come to the Confession Room and tells her that this time, if they find any captaim lacking, they can fire them anytime. He told Nimrit and the future captains to stay alert at all times.

Oct 2, 2022

10:23 PM

Archana and Manya talk to each other where Archana said that she wouldn't do anything wrong and came to the house to test if she is ready to enter politics.

Oct 2, 2022

10:20 PM

After the fight, Nimrat allowed Archana to write on her. Before that, Nimrit explains her actions of changing Archana's duty that nobody liked the tea she made and she did not give the reason so that Archana doesn't feel bad. Nimrit went to the bathroom after the act to cry.

Oct 2, 2022

10:17 PM

Another call and this time it's Pankaj Tripathi!!! This time he wishes to speak to Archana. PAnkaj gives Archana a task that she has to write 'Bekar' with a lipstick or kohl on the forehead of anyone she thinks is Useless. Archana decides to write on Nimrit's head. A fight erupts as she tries to write on the latter.

Oct 2, 2022

10:14 PM

Gautam picked up another call which is from Sonu Nigam and he wants to talk to Tina. Sonu asked Tina to sing and dance with Abdu in the garden area to the song, 'Dil Deewana' The collaboration is quite melodious.

Oct 2, 2022

10:12 PM

A fight erupted between Nimrit and Archana Gautam as the former said that Archana doesn't have to do cooking anymore. Archana took offense and is arguing with the captain. The housemates are backing Nimrit.

Oct 2, 2022

10:09 PM

Another call came, this time it's Hrithik Roshan! He first talks to Soundarya and then to Gautam Vig. He tells Gautam that if he is Hrithik's television counterpart, then he should do his Kaho na Pyaar hai signature step in every room. Gautam gracefully does so.

Oct 2, 2022

10:06 PM

Shalin jumped in the pool but Aamir said that he didn't like the act and asks his to jump again. Shalin repeated the act but Aamir asked him to do it again. Shalin obliges and Aamir said that it was entertaining this time. Shalin asked him he the caller was really Aamir but Aamir replied how can he prove that.

Oct 2, 2022

10:02 PM

A call came in the house and Tina picks it up. The voice on the other side is Aamir Khan. Aamir asks Tina to call Shalin. First he praises Shalin for his physique and then gives him a task of dunking in the pool.

Oct 2, 2022

9:59 PM

Shiv asked Abdu to bring a dustbin to put dry leaves in the garden in it. Abdu, after taking time to understand Shiv, obliges and helped Shiv in cleaning the garden.

Oct 2, 2022

9:57 PM

Sajid claims that Abdu is quite wealthy. Abdu refutes and says that he just became famous and doesn't have much money. He gives most of his earnings to his mother. Abdu said that he faced many adversities due to his height but he evolved. Sajid exclaims that Abdu has a very good heart and is a gem of a person.

Oct 2, 2022

9:55 PM

Tina and Nimrit discuss about the dwindling rations. Nimrit asks Sajid for advice. However, Sajid says that Nimrit is the captain and a captain doesn't discuss, they execute.

Oct 2, 2022

9:53 PM

The housemates sing the anthem melodiously and Bigg Boss tells them to memorize it. The housemates are now trying to learn the song. NImrit is teaching Abdu

Oct 2, 2022

9:51 PM

Bigg Boss called the housemates and tells them that everyone came to become a copy of the previous winners. Bigg Boss says that he wouldn't let that happen and declares that today's wake up song was the last of the season. The housemates are in an uproar. BIgg BOss then tells them that they will sing the Bigg Boss within 5 mins of wake up. Making the housmates assemble in the main ground is the responsibility of the captain

Oct 2, 2022

9:48 PM

Stan is entertaining the housemates with his mesmerising rap about how he is 'Basti ka Hasti'

Oct 2, 2022

9:47 PM

The housemates ask MC Stan about his origins. He said he didn't go to college as he became famous before that. Stan tell the meaning of his name as the combination of Satan and Angel

Oct 2, 2022

9:45 PM

Bigg Boss gives Abdu his mic back. Now he doesn't have to speak through Sajid anymore. Abdu is elated and shouts thank you to Bigg Boss

Oct 2, 2022

9:44 PM

Sajid calls Abdu and tells him to say what he required. Abdu tells him in the ear that he needs to go really urgently to the washroom. Sajid suggests him to do in the pool. Abdu politely declines.

Oct 2, 2022

9:42 PM

Afternoon 12. The whole house wakes upto to the number of Chennai Express' '1 2 3 4...'' and dances in a hardcore manner.

Oct 2, 2022

9:40 PM

In morning 10, Archana and Tina got into a tiff where Archana said that Tina that she left the gas on and on high. Tina denies the allegation

Oct 2, 2022

9:39 PM

At, Abdu Rozik requested Bigg Boss to giver him small dumbells for excercise. Sajid requests Bigg Boss the same for Abdu

Oct 2, 2022

9:37 PM

Sajid becomes Abdu's translator and is showing him around the house in a quirky manner.
Story first published: Sunday, October 2, 2022, 21:34 [IST]