Bigg Boss 16 Day 2 Live Updates: On First Nominations Of The Season, Bigg Boss Orders To Throw Away The Niceti
Today is the day of the season's first Nomination Task. As per the promo, Bigg Boss said that they are not interested in the contestant's sugar-coated reasons and just asked them to give the names of the ones they wish to nominate.
Recommended Video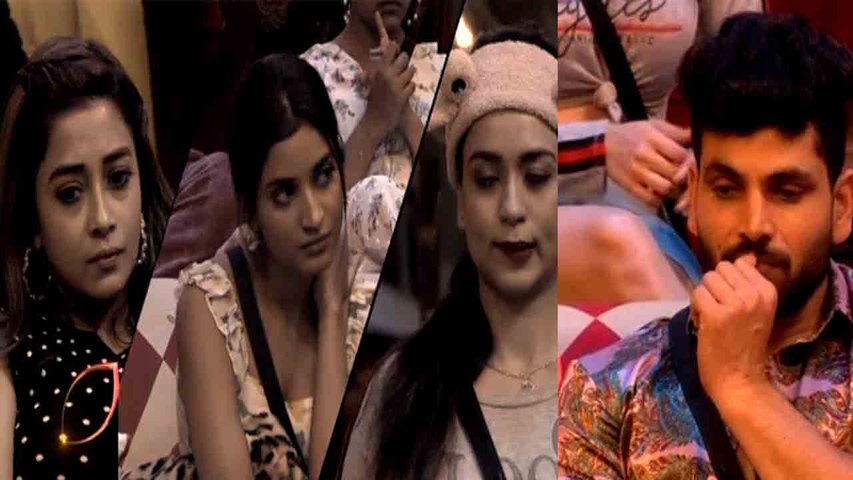 Bigg Boss 16 में पहला Nomination, Bigg Boss Contestants से बिना कारण पूछे दिखाएंगे बाहर का रास्ता!
Meanwhile, Gautam Vig and Nimrit Kaul interrogate Ankit Gupta about the relationship between him and Priyanka Chahar. Ankit is still maintaining that they are good friends who care deeply for each other. On the other hand, Tina Dutta is mesmerized by Abdu's cuteness and charm and asks him to be her boyfriend, to wich Abdu blushes hard.
A lot of exciting things are going to happen in the episode. Stay tuned for the live updates.
Oct 3, 2022

11:02 PM

It was an interesting day, be it in terms of tasks or Bigg Boss' inputs on the contestants. Seems like the next few days are going to bring even more fireworks between the housemates. Whatever happens, the fun and entertainment for the audience is guaranteed.

Oct 3, 2022

11:00 PM

Gautam and Priyanka lock horns as Priyanka alleges that Gautam has been linking her name with Ankit. However, Gautam retorts that Priyanka also keeps linking his name with every other girl in the house.

Oct 3, 2022

10:57 PM

Priyanka came to MAnyas's rescue saying that everything in the kitchen, including its clean9ng is Tina's duty and not Manya's. Nimrit and Gautam say that it is not her lookout but Priyanka is adamant on her stand.

Oct 3, 2022

10:53 PM

A fight erupted between Manya and NImrit as she refused to clean something that blocked the sink. Archana tried to help Manya but the housemates refused and said that Manya needs to clean it herself. After some talking, Manya did cleaned the sink.

Oct 3, 2022

10:50 PM

Priyanka is upset about the words Bigg Boss said to her. Ankit consoled her. Priyanka asked if it is a crime to be good-hearted. Ankit said that she should play the game the way she wants.

Oct 3, 2022

10:48 PM

Gori belly danced for the contestants while Abdu is singing an Arabic songs. Gori's dance is exquisite. Sumbul recited an inspiring rap that her father wrote. The rap is about the hardships women face since their birth to death.

Oct 3, 2022

10:44 PM

Bigg Boss asked Sajid his opinions about the nominations. Bigg Boss told Sajid that according to Shalin, Sajid doesn't want to win the game. Bigg Boss observed that the nominations feel like it's TV vs Non-TV personalities. Sajid said that he doesn't think so.

Oct 3, 2022

10:41 PM

Tina called Nimrit to show her that she cleaned the dishes. Nimrit requested her to clean the sink as well. Tina refused and said that it is not her work and everyone should treat the BB house as their own home.

Oct 3, 2022

10:40 PM

At midnight, Tina is washing dishes and Manya is waiting to clean up after her. Tina said that she is cleaning the dishes and Manya needs to stay patient.

Oct 3, 2022

10:38 PM

BIgg Boss called Priyanka reprimanded her for giving advices to anyone. He asks why she thinks that whichever contestant comes to the confession room is weak and needs advice. Priyanka said that she will stop doing that and only adviced Ankit. Bigg Boss told Priyanka to advise Ankit to be careful with his mic.

Oct 3, 2022

10:34 PM

Bigg Boss congratulated Gori on getting nominated by the most number of contestants. Gori said that everyone is playing in teams and nobody talks to her.

Oct 3, 2022

10:32 PM

Bigg Boss asked Shalin why doesn't he put his opinions forward. They reprimand him that he is sugar-coating his words and that makes him a coward.

Oct 3, 2022

10:30 PM

Archana is making fun of Tina, Manya, and Soundarya.

Oct 3, 2022

10:28 PM

Shiv, Archana, MC Stan, Sajid, GOri, and Gautam are nominated. Bigg Boss said that he didn't like that people said sorry after nominating contestants. Bigg Boss said that they will convey that those contestants proved that they are image conscious. SO Bigg Boss ordered that TIna, Soundarya, and MAnya will do all the housework.

Oct 3, 2022

10:24 PM

Sajid said that Shalin called Sajid before the show saying he will stay together with him and Farah Khan is like his sister. Shalin explained that he knows the Sajid won't be going and others should get a chance to play the game more than him.

Oct 3, 2022

10:22 PM

Except Sumbul, everyone nominated everyone.

Oct 3, 2022

10:21 PM

Nimrit is safe. She nominated Shiv and Archana. Shalin nominated Abdu and Sajid Khan. Shreejita nomitaed Gori and TIna. Ankit nominated MC Stan and GOri Lagori. Archana nominated Stan and Sajid Khan. Sajid nominated Shalin and TIna. Shiv nominated Gautam VIg and Shreekjita. Priyanka nominated Sajid Khan and MC Stan. Sumbul nominated Manya SIngh and Sajid. Stan nominated Gautam and Priyanka. Soundarya nominated Abdu and Ankit Gupta. Gori nominated Gautam and Ankit. Abdu nominated Shalin Bhanott and Soundarya.

Oct 3, 2022

10:16 PM

In season's first nominations, Bigg Boss said that he is no more interested in the contestant's reason for nominations and every will just take two names and those people's photos will be burned.

Oct 3, 2022

10:14 PM

Shiv told Nimrit that Sajid Sir should not wash his plates out of respect. Nimrit said that it's decided that everyone will wash their own plates. Shiv was talking to Shalin while Nimrit was talking. When Nimrit shouted his name then Shiv took offense. The housemates, Sajid included, support Nimrit.

Oct 3, 2022

10:08 PM

Tina, Shiv, and Abdu are on the dining table. Tina asked Abdu if she can be his girlfriend. Shiv teased Abdu that he likes Archana, to which Abdu shouts no. Tina then quips that Abdu broke her heart to which Abdu replies that Tina is cute as well.

Oct 3, 2022

10:05 PM

Nimrit and Gautam talk to Ankit that he is in honeymoon period with Priyanka. They ask him his and Priyanka's relationship status. Ankit said that Priyanka wants a future from her partner. Ankit said he doesn't want to commit now.

Oct 3, 2022

10:00 PM

At 1 in the afternoon, Priyanka asks Shiv to sweep a bit away in the garden so that Soundarya isn't disturbed from her meditation. Soundarya was irritated by the act. Abdu, in joking manner, did YOga poses near Soundarya.

Oct 3, 2022

9:58 PM

Sajid jokes with Abdu, suggesting him that he should sit on a camera so that he becomes invisible to them. That way, all the cameras will be looking for him. Abdu smiled at the suggestion

Oct 3, 2022

9:56 PM

Shiv took Nimrit's and Archana's hands and took them out of the kitchen so that the quarrel is resolved outside of it. Nimrit got upset as she found the act very disrespectful.

Oct 3, 2022

9:53 PM

Fight started between Nimrit and Archana started to make Besan Chilas without asking her first. Archana said that she is making as she wishes to make and eat herself. Nimrit requests Archana that she should ask other housemates before doing anything. The housemates back the captain.

Oct 3, 2022

9:50 PM

Priyanka said that Ankit is saving the money he is getting from Bigg Boss to save for Priyanka's wedding. Shalin quips that Ankit should become his best friend if he is ready to do that for 'just friends'.

Oct 3, 2022

9:47 PM

The day begins with siren alarms instead of the famous tradition of wake songs. Nimrit assembled everyone in the garden area and every sang the catchy Bigg Boss anthem.