Sunny Hindustani Wins Indian Idol 11; Fans Congratulate Him & Call His Journey 'Incredible'
The grand finale of Indian Idol 11 was held on Sunday (February 23). Sunny Hindustani, who hails from Punjab, won Indian Idol 11 trophy. Apart from the trophy, the Punjabi lad won Maruti Altruis car and Rs 25 lakh cash prize. He will also be getting a chance to sing in an upcoming T-series film! As soon as the winner was announced, viewers congratulated Sunny on Twitter. They also called his journey 'incredible'. Apparently, Sunny used to earn his livelihood by polishing shoes at a railway station and his mother used to sell balloons. Take a look at a few tweets!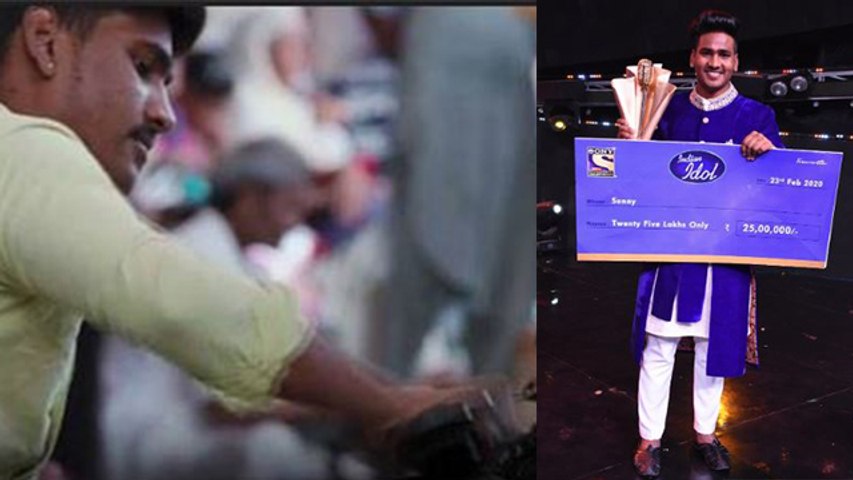 Indian Idol 11 Winner: Sunny Hindustani's shoe polishing struggle story will make you cry FilmiBeat
Upma & जगजीत
Upma singh: Very very deserving #SunnyHindustani wins #IndianIdol #IndianIdolGrandFinale @NBTMumbai.
जगजीत: Well deserving, hardworking & talented.... Congratulations #SunnyHindustani for being winner of #IndianIdol.
Ritesh Patel
"After winning 13 filmfare, #GullyBoy also wins #IndianIdol11finale #IndianIdol #SunnyHindustani Grinning faceGrinning face."
Mayank Agarwal
"Heartiest congratulations to #SunnyHindustani for winning the #IndianIdol trophyClapping hands signClapping hands signYou truly deserved it more than anybody elseOk handClapping hands signWinning the trophy coming from nowhere is really a huge achievementRed heart #IndianIdolGrandFinale @VishalDadlani @iAmNehaKakkar #HimeshReshammiya @SonyTV."
विमल कुमार
"Congratulations brother. You won our hearts. Happy to see you as winner but sad to know that we can't hear you every Saturday Sunday #IndianIdol #IndianIdol11 #IndianIdolGrandFinale #RohitRaut #SunnyHindustani."
Hikmat Sorosh
"As a music fan loved the show #IndianIdol. What an incredible journey of #SunnyHindustani from polishing shoes to winning the title. He has got great talent #IndianIdolGrandFinale #SunnyHindustani."
Hitesh Sangol
"Congratulations #SunnyHindustani for winning #IndianIdol 11th session you deserved this trophy and all the best for you're great future. Don't forget you're own story be simply and be positive. #IndianIdolGrandFinale."
Rachna Chhabria
"Hope more talented people like Sunny Hindustani find a platform to showcase their talent to the world and achieve their dreams. Kudos @SonyTV for giving us #IndianIdol #IndianIdolGrandFinale was fantastic! #SonyTV."
(Images Source: Sony TV - Instagram & Twitter)
(Social media posts are not edited)
Also Read: Indian Idol 11 Grand Finale: Sunny Hindustani Wins The Trophy; Rohit Raut Bags The Second Place