Bigg Boss 16 Weekend Ka Vaar Live Updates: Rashmika Madanna And Neena Gupta Grace The Show
In Saturday's promo, Salman asked the contestants to who according to them is hit or flop in the show. Where Nimrat declared Priyanka as the flop contestant when she had to chouse between her and Gautam, majority of the contestants marked Udaariyan fame Ankit Gupta. Even Salman quipped with Ankit, saying that his father called and asked that he isn't visible in the episodes.
Recommended Video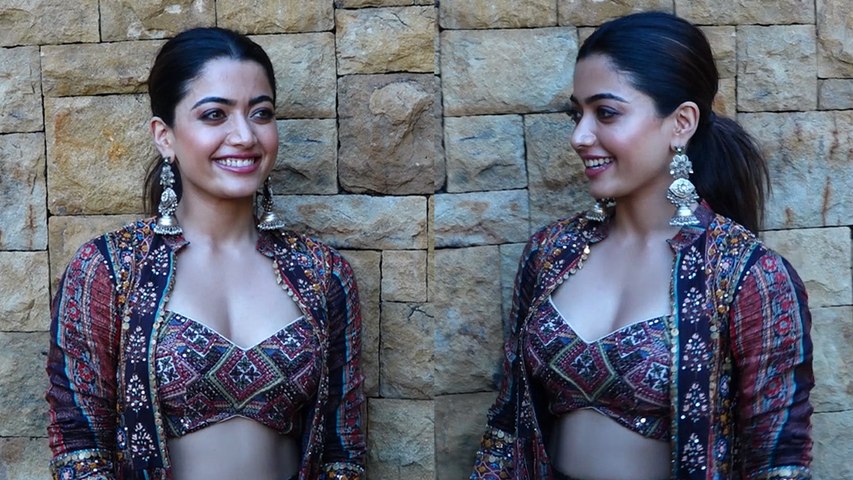 Rashmika Mandanna ने Indian Look में दिखाईं अदाएं, Media ने Photos के लिए किया परेशान, video viral!
In another promo, Neena Gupta and Pushpa fame Rashmika Madanna grace the show to promote their film Goodbye, where they are starring alongside Amitabh Bachchan. They play various games with Salman and the housemates.
Today, we will finally get to know that among Sajid Khan, MC Stan, Shiv Thakare, Archana Gautam, and Gautam Vig, who will be the very first contestant to be eliminated from the Bigg Boss house. Whatever the result, it is going to be exciting to watch.
Stay tuned with FilmiBeat for the live updates.
Oct 8, 2022

10:52 PM

Abdu requested Archana not to make spicy food for him. Archana told him that she makes normal food for him and spicy for Shiv, so he must have switched it for fun. Abdu then hugs Archana and thanks her.

Oct 8, 2022

10:50 PM

Shiv and Sajid discussed about Shalin, saying that he tries to be good person but is something different and another face.

Oct 8, 2022

10:48 PM

Sajid tells Stan that girls are flocking to her after they learnt that he has 2 million followers. Archana came and wished well to Archana, telling her to get well soon.

Oct 8, 2022

10:44 PM

Housemates are asking Archana on the number of Rotis she made. Nimrat finally broke down and shouted, telling the housemates that to not create commotion as she is unwell.

Oct 8, 2022

10:39 PM

Gautam asked Archana why he got less food than others. Archana said that she shouted continuously asking Gautam to eat. Now she is not at fault. The housemates later gang up on Archana saying that she shouldn't go around giving extra food to others. Archana said that from now, she will only cook and te captain will distribute the food.

Oct 8, 2022

10:34 PM

Archana shouts in the kitchen about needing to eat rice. Sumbul, whose duty was to provide the food item, said that she didn't hear Archana's words as she was outside. Archana said that from next time, whenever she cooks, Sumbul needs to give her rice to make.

Oct 8, 2022

10:29 PM

Soundarya, Gori, Stan point out Abdu's changed behaviour after WKV as he didn't even greet Stan in the usual way like always. They think that Abdu is leaning towards Nimrat and group.

Oct 8, 2022

10:26 PM

Stan and Sajid discuss Nimrat's captaincy where Sajid said that the TV actors think that the house belongs to them.

Oct 8, 2022

10:24 PM

Tina opens up about her tiff with Shreejita that was in the news. She said that they were not in a catfight and everything was amicable between them. Tina is also upset that her friends that they wish to talk to Shreejita

Oct 8, 2022

10:21 PM

Priyanka told Ankit that he should mingle with others and not stay with him all the time.

Oct 8, 2022

10:19 PM

Shalin confronts MC Stan on being called fake by the latter. MC Stan said that he can't do anything about the way he feels about him.

Oct 8, 2022

10:18 PM

Priyanka tells Ankit that he should take his own stands on the matter and speak up when required.

Oct 8, 2022

10:16 PM

Shalin and TIna got into a tiff again as Tina doesn't want her friends to interact with Shreejita while Shalin wants to stay friends with her. Both then said that they don't wish to talk to each other. NImrat nd Sumbul try to talk to Shalin but he refused to listen.

Oct 8, 2022

10:14 PM

Salman declared that no one will be eliminated today.

Oct 8, 2022

10:13 PM

Salman asked the elected contestants to select a partner. Nimrat picked Gautam, Abdu chose Sajid, Priyanka chose Shreejita, and Gori picked Shiv. Salman asked them to picklift their partners. Abdu and Sajid are dissqualified by default. Gori loses the task.

Oct 8, 2022

10:10 PM

Salman asked that the contestants who according to them doesn't deserve to be the captain. Stan names Shalin, Sajid said Abdu, Priyanka said Nimrat, Ankit said Gori, Sheejita said Tina, Gautam said Shiv. Sumbul said Priyanka, Shalin said Ankit, Nimrat said Priyanka, Shiv named Gautam, Gori Named Nimrat, Soundarya named Manya. Abdu, after thinking for a while, named Sajid Khan. Tina named Priyanka, Manya named Gori and finally, Archana named Abdu. At the end Nimrat Priyanka, Abdu, and Gori are selected.

Oct 8, 2022

10:03 PM

As the guests leave, Salman asked the male contestants to recite Allu Arjun's famous Pushpa dialogue. The contestants then bid farewell to the guests by doing the Saami step.

Oct 8, 2022

10:00 PM

Salman offered Archana two packets of milk and one ration item from each room. However, she has to convince Stan to give up his Rs. 80K Shoes. Archana failed in her task.

Oct 8, 2022

9:58 PM

Manya gave the 'Footage ke Bhookhe' 2nd runner up to Soundarya, 1st runner up to Priyanka, and declare the 'Footage ke Bhookhe' winner to Archana Gautam. SAlman later gave her the reward.

Oct 8, 2022

9:56 PM

Salman gives the housemates a task where he will give rewards to them if they complete a task. He offered Shalin chicken if he does the chicken dance. Nobody liked the dance. Salman offered MAnya that she won't have to do a work in the house if she gives different sashes to the contestants

Oct 8, 2022

9:50 PM

The guests interact with the housemates. Salman introduced every housemates in a quirky way.

Oct 8, 2022

9:48 PM

Rashmika requested Salman to speak a few of his dialogues in Telugu, which the actor does successfully. Salman, in return asked the Pushpa to do the Saami step.

Oct 8, 2022

9:47 PM

Neena Gupta and Rashmika Madanna grace the set. The actresses came to promote their film Goodbye and are very happy to see the success of the film.

Oct 8, 2022

9:44 PM

Salman asked contestants to say who is hit or flop in the show. Shalin said that Stan is hit for him and Shreejita is flop. Sumbul chose Shalin to be hit and Ankit to be flop. Gautam said Nimrat is hit for him while Shiv is flop. Shreejita decalres Gautam as hit while Manya as flop for the show. Priyanka said for her, Shiv is hit while Nimrat is flop. Ankit said the Priyanka is hit while Gori Nagori is flop as she doesn't interact with everyone. MC Stan said Sajid is hit for the show while Priyanka is flop. Sajid said Stan is hit while Abdu is flop as he gets away with anything due to his cuteness.
Story first published:
Saturday, October 8, 2022, 21:38 [IST]