Rishi Kapoor Funeral Pics: Ranbir Kapoor Stares Sadly; Neetu Kapoor, Alia Bhatt Break Down
Rishi Kapoor left for his heavenly abode on April 30, 2020. A few minutes ago, his last rites were performed by his family in Mumbai and the pictures from Rishi Kapoor's funeral will break your hearts into million pieces! The funeral was attended by his family sans his daughter, Riddhima Kapoor, who couldn't reach Mumbai in time owing to the nationwide lockdown in the wake of the Novel Coronavirus. Apart from Ranbir and Neetu Kapoor, Alia Bhatt and Abhishek Bachchan were also spotted at the do.
Rishi Kapoor's LAST WISH When He Realised He Won't Be Able To Make It Will Leave You In Tears!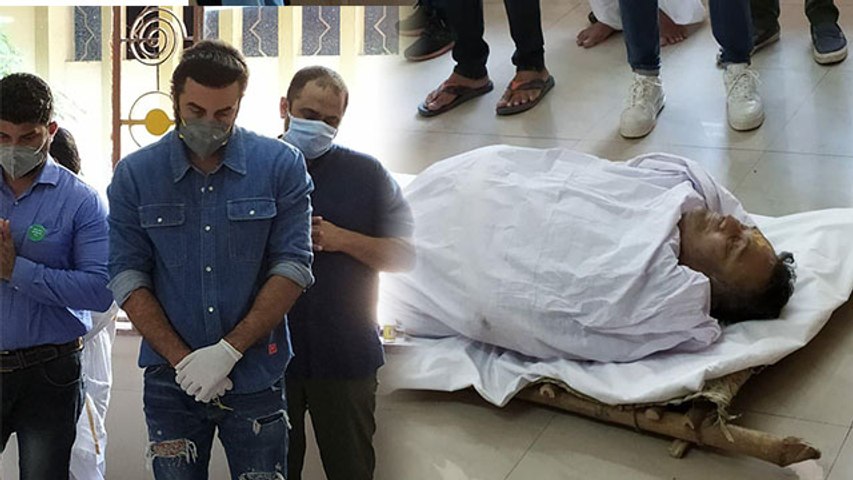 Rishi Kapoor के अंतिम दर्शन कर रो पड़े बेटे Ranbir Kapoor, ये है आखरी फोटो | FilmiBeat
Ranbir Kapoor Stares At His Dad
This picture of Ranbir Kapoor makes us every bit sad and we pray that God gives strength to the actor to cope with the personal loss. It is indeed the saddest day of Ranbir's life.
Neetu Kapoor & Alia Bhatt Break Down Into Tears
Neetu Kapoor and Alia Bhatt break down into tears as they stare at the motionless body of Rishi Kapoor. Going by the picture, Alia seems to have taken Riddhima on a video call, as the latter couldn't mark her presence at her father's funeral.
Kareena, Saif and Randhir Kapoor
Apart from Neetu and Ranbir, Saif Ali Khan, Kareena Kapoor Khan and Randhir Kapoor were also present at the funeral of Rishi Kapoor.
Abhishek Bachchan
Despite the Coronavirus scare, actor Abhishek Bachchan arrived at the funeral. For the unversed, the entire Bachchan family is very close to Rishi Kapoor and his family, and Abhishek's presence at the do was quite expected.
Our deep condolences to the entire Kapoor family!
Picture Courtesy- Lipika Varma
Rishi Kapoor's Last Tweet Goes Viral; Fans Mourn And Ask 'Why Does God Need These Actors'