Sonam Kapoor Reveals How She Is Quarantining With Hubby Anand: We Don't Actually See Each Other
Post marriage, Sonam Kapoor is often seen juggling with her work and personal life in London and Mumbai. Currently, the Bollywood actress is spending some quality time with her hubby Anand Ahuja at their Mumbai home amid the lockdown.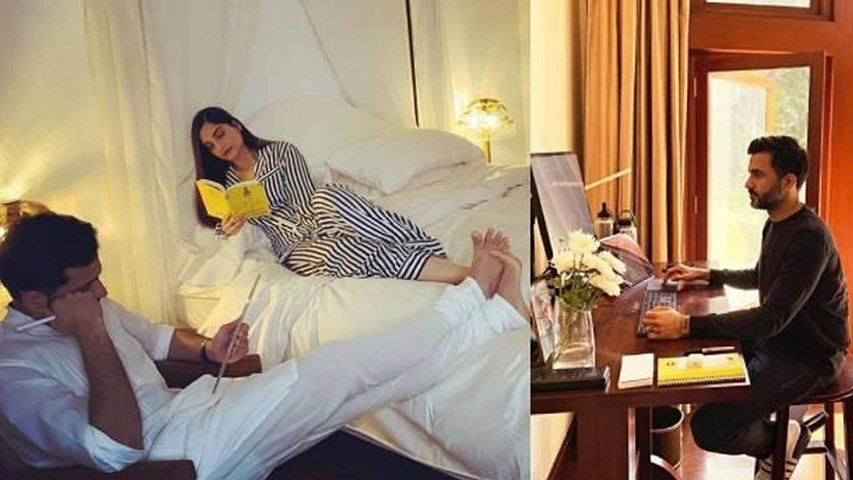 Sonam Kappor पास रहकर भी पति Anand Ahuja से हैं दूर, एक्ट्रेस ने किया खुलासा | FilmiBeat
In a recent interview with Filmfare, The Zoya Factor actress got candid about how her husband has been giving her space despite being cooped up together. Sonam said that they do not actually see each other all that much during the day, as he is busy working in a different room.
Sonam Says Anand Comes To Say Hi To Her In Every Two Hours
While speaking with Filmfare, Sonam said, "What's really nice is that he comes every two hours from where he is working...he is usually working in the other room so that I can have my own space...every two hours, he comes to say hi to me. We have lunch together."
Despite Living In The Same House, They Hardly Get To See Each Other During The Day
She further added, "We don't actually see each other, even though we can because he is outside and I am sitting in my bedroom. We don't actually see each other that much during the day. He has his workspace but we get to spend that extra time together, like lunch together or breakfast together. Usually, he likes to get to work by 8 am, so he is up by 5 am."
In The Same Interview, Sonam Was Also All Praise For Her Mother-In-Law
"So my mom-in-law is one of the most progressive and cool women you will ever come across. She dresses beautifully. Both of us were like during quarantine, we are not going to dress up in pajamas and work out clothes. We love baking together," the actress was quoted as saying.
Sonam Kapoor On How She Is Having Fun With Her Mother-In-Law
"She and I love dressing up. I haven't stayed up in gym clothes and pajamas for more than 2 to 3 days. It takes a little extra effort to dress up, but I wouldn't mind spending 2-3 hours to dress up," the actress was quoted as saying by the entertainment portal.
Speaking about films, Sonam Kapoor was last seen in Abhishek Sharma's The Zoya Factor alongside Malayalam heartthrob Dulquer Salmaan.
ALSO READ: Sushant Singh Rajput Death: Sonam Kapoor Appeals For Kindness, 'Grieving Families Are Not Photo Ops'
ALSO READ: Sonam Kapoor Lashes Out At Instagram For Failing To Block Death Threats Made Against Sister Rhea